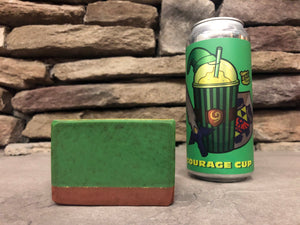 Spunk N Disorderly Soaps
Courage Cup Beer Soap
Regular price
$9.00
$0.00
Unit price
per
Fragrance Description: Bergamot, Leather, Cypress, Florals, Suede, Notes of Musk, Tobacco
Brewery: 450 North Brewing Company
Beer: Crystal Cup
Beer Type: Fruited Sour
"A sword wields no strength unless the hand that holds it has courage" - Zelda, Twilight Princess
It's dangerous to go alone! Take this beer soap! It is handcrafted with Courage Cup from 450 North Brewing Company, and has an earthy and sophisticated smell that will inspire you to face your quests head on, be they simple tasks here or your own Trial of the Labyrinth in The Kingdom of Hyrule. You want it? It's yours my friend. 
Handmade in Indiana
Soap Contains: Olive Oil, Coconut Oil, Responsibly & Sustainably Sourced Palm Oil, Courage Cup Fruited Sour from 450 North Brewing Company, Distilled Water, Sodium Hydroxide, Fragrance Oil, Sweet Almond Oil, Castor Seed Oil, Kaolin Clay, Mica, Cosmetic-Grade Eco-Glitter
Weight: Approximately 4.5 oz
Please Note: All of our soaps are handmade and hand cut. This means that there may be some slight variances in weight, color, etc.
For external use only. Discontinue use if any adverse reactions occur. Keep out of reach of children.  
We are not affiliated, associated, authorized, endorsed by, or in any way officially connected with 450 North Brewing Company.
---