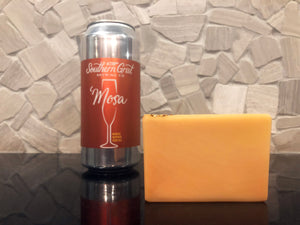 Spunk N Disorderly Soaps
'Mosa Beer Soap
Regular price
$9.00
$0.00
Unit price
per
Fragrance Description:  Bright Orange, Fizzy Champagne. A freshly poured mimosa, complete with effervescence 
Brewery: Southern Grist Brewing Company
Beer: 'Mosa
Beer Type: Sour Ale
When it comes to brunch, we usually swap our beers for bottomless mimosas. However, thanks to the brilliant brewers at Southern Grist Brewing Company and their delicious creation, we no longer have to! This Tennessee beer soap is handcrafted with 'Mosa Sour Ale from Southern Grist Brewing Company, topped with bits of dried orange peel, and smells like a freshly-poured orangey, bubbly, delicious mimosa. 
Handmade in Indiana

Soap Contains: Olive Oil, Coconut Oil, Responsibly & Sustainably Sourced Palm Oil,'Mosa Sour Ale from Southern Grist Brewing Company, Distilled Water, Sodium Hydroxide, Fragrance Oil, Sweet Almond Oil, Castor Seed Oil, Kaolin Clay, Mica, Dried Orange Peel Granules 

Weight: Approximately 4.5 oz

Please Note: All of our soaps are handmade and hand cut. This means that there may be some slight variances in weight, color, etc.
For external use only. Discontinue use if any adverse reactions occur. Keep out of reach of children.  
We are not affiliated, associated, authorized, endorsed by, or in any way officially connected with Southern Grist Brewing Company.
---