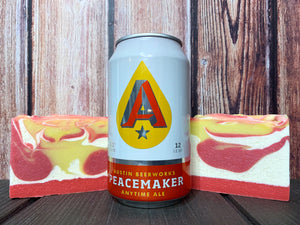 Spunk N Disorderly Soaps
Peacemaker Beer Soap
Regular price
$9.00
$0.00
Unit price
per
Fragrance Description: Spice, Cedarwood, Bergamot, Zest
Brewery: Austin Beerworks
Beer: Peacemaker
Beer Type: Anytime Ale
Now look, we all know that "no one likes a show-off…unless what they're showing off is dope as fuck"*. And this soap we are showing off? Dope AF. Handcrafted with Peacemaker Anytime Ale from Austin Beerworks, we can't guarantee that using this beer soap will result in you living in a star-spangled home with your pet/sidekick/best friend named Eagly**…but we also can't guarantee it won't. 
*Suicide Squad, 2021
**Do not attempt to acquire an eagle best friend. Not only does The Bald and Golden Eagle Protection Act (16 U.S.C. 668-668d)
 

strictly prohibit (and punishes) the "tak[ing], possess[ing], sell[ing], purchas[ing], barter[ing], offer[ing] to sell, purchase or barter, transport[ing], export[ing] or import[ing], at any time or any manner, any bald eagle…[or any golden eagle], alive or dead, or any part (including feathers), nest, or egg thereof"

,

 

but bald eagle calls can be (and often are) louder than a jet engine

,

 so you probably won't be able to keep your eagle a secret for long.

 

 

Handmade in Texas


Soap Contains: Olive Oil, Coconut Oil, Responsibly & Sustainably Sourced Palm Oil, Distilled Water, Peacemaker Anytime Ale from Austin Beerworks, Sodium Hydroxide, Fragrance Oil, Sweet Almond Oil, Castor Seed Oil, Kaolin Clay, Mica, Titanium Dioxide

Weight: Approximately 4.5 oz. 


Please Note: All of our soaps are handmade and hand cut. This means that there may be some slight variances in weight, color, etc.

For external use only. Discontinue use if any adverse reactions occur. Keep out of reach of children.

We are not affiliated, associated, authorized, endorsed by, or in any way officially connected with Austin Beerworks.
---