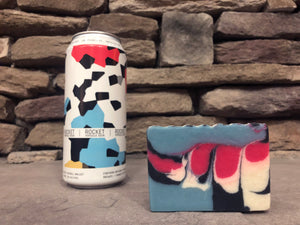 Spunk N Disorderly Soaps
Rocket Popsicle Beer Soap
Regular price
$9.00
$0.00
Unit price
per
Fragrance Description: Raspberry, Notes of Plum, Vanilla
Brewery: Untitled Art
Beer: Rocket Popsicle
Beer Type: Sour
It never fails; if there is an Untitled Art can on the shelf, we will be drawn to it. They're gorgeous! Unfortunately they are so beautiful that our attempts to do them justice fall flat. However, instead of comparing our art to theirs, we decided to look at it like a treat from the ice-cream truck. Sometimes they looked a little funny, but they were always delicious! This beer soap is handcrafted with Rocket Popsicle Sour from Untitled Art, contains activated charcoal, and has a delicious, fruity smell that will have you ready to blast off!
Handmade in Indiana

Soap Contains: Olive Oil, Coconut Oil, Responsibly & Sustainably Sourced Palm Oil, Distilled Water, Rocket Popsicle Sour from Untitled Art, Sodium Hydroxide, Fragrance Oil, Sweet Almond Oil, Castor Seed Oil, Kaolin Clay, Mica, Activated Charcoal, Titanium Dioxide
Weight: Approximately 4.5 oz

Please Note: All of our soaps are handmade and hand cut. This means that there may be some slight variances in weight, color, etc.
For external use only. Discontinue use if any adverse reactions occur. Keep out of reach of children.  
We are not affiliated, associated, authorized, endorsed by, or in any way officially connected with Untitled Art.
---