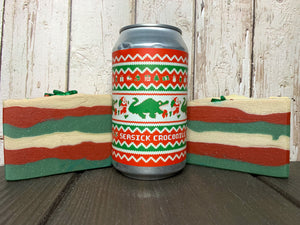 Spunk N Disorderly Soaps
Seasick Crocodile Beer Soap
Regular price
$9.00
$0.00
Unit price
per
Fragrance Description: Cranberry, Fig, Cinnamon, Notes of Clove, Citrus
Brewery: Prairie Artisan Ales
Beer: Seasick Crocodile
Beer Type: Sour Ale
It's a new one, this beer soap
It will really get you clean!
The bar is nice and festive, all done in red and green, this beer soap. 
It smells so gosh-darn good, that it just might make you preen. 
-
It comes from Prairie, this beer soap.
It's made with beer and love.
It contains a wild ale, and will give you lots of suds, this beer soap.
It smells so good it might be sent from up above
-
It's a fun one, this beer soap
It will really make you smile!
It even has a helping of their Seasick Crocodile, this beer soap.
Given a choice between this or
Bomb! I'd take the Seasick Crocodile
This craft beer soap is handcrafted with Seasick Crocodile Sour American Wild Ale from Prairie Artisan Ales, and has a festive cranberry smell. 
Handcrafted in Texas
Soap Contains: Olive Oil, Coconut Oil, Responsibly & Sustainably Sourced Palm Oil, Distilled Water, Seasick Crocodile Sour Ale from Prairie Artisan Ales, Sodium Hydroxide, Fragrance Oil, Sweet Almond Oil, Castor Seed Oil, Kaolin Clay, Mica, Titanium Dioxide
 Weight: Approximately 4.5 oz. 
Please Note: All of our soaps are handmade and hand cut. This means that there may be some slight variances in weight, color, etc.
For external use only. Discontinue use if any adverse reactions occur. Keep out of reach of children.
We are not affiliated, associated, authorized, endorsed by, or in any way officially connected with Prairie Artisan Ales.
---