• 30 Watt • Accessories • Gift Ideas
Admittedly, I'm not a wine expert. But even I know that soapy water, spilled wine, or a shattered glass won't pair well with that chilled Chardonnay. You could always grab some wine in a can and use a
Sudski
, but if you prefer to pour your own serving size from a bag or a bottle, the Sipski may be just what your bath or shower needs.
---
• 30 Watt • Accessories • Beer • Gift Ideas • Shower Beer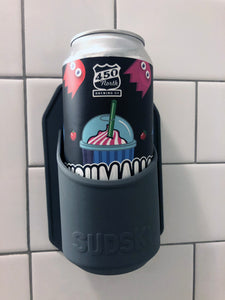 Have you been meaning to up your shower beer game? Are you shopping for a gift for a beer lover? Look no further: introducing the Sudski from 30 Watt! The Sudski is a shower drink holder; perfect for shower beers! 
Made of silicone, the Sudski requires no adhesives, suction cups, or wall mounts to stick to (most) shiny surfaces. Beer not included (sorry!)